<! --INIZIO INTESTAZIONE> aaPhoto 2012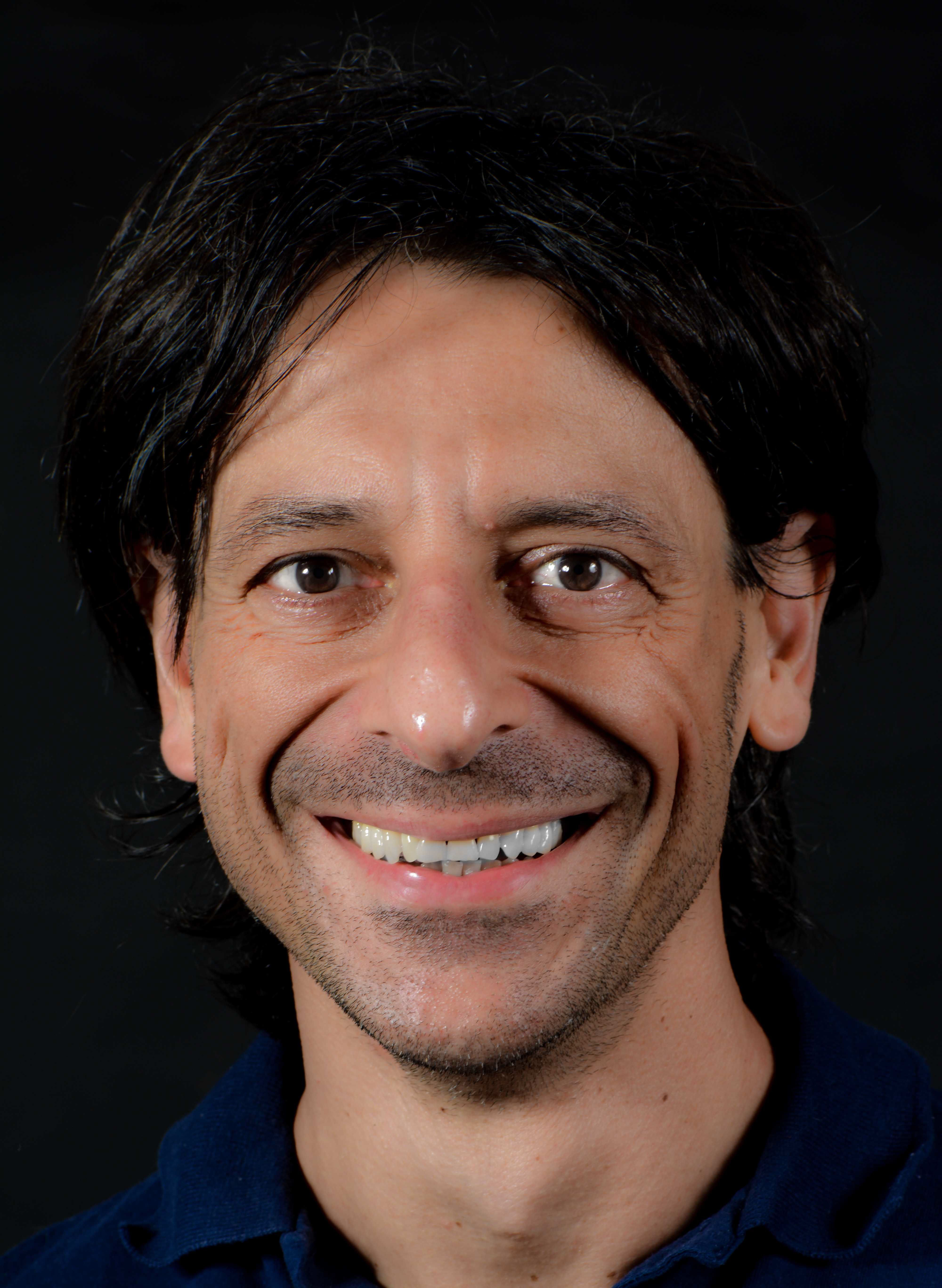 A

Welcome to the PPPWWW!
Paolo Piccione's Page on the World Wide Web

A
<! --FINE INTESTAZIONE>
VITA:

Born in Rome, Italy, April 24th 1964.
Laurea in Matematica at the Università La Sapienza di Roma, Italy (1987)
Ph.D. in Mathematics at the Pennsylvania State University, USA (1995)
Livre Docência at the Universidade de São Paulo - Brazil (1998)
Member of the Brazilian Academy of Sciences since May 2012.
WORK:
Full Professor in the Mathematics Department - USP
Universidade de São Paulo - Brazil

Here is a map of the USP Campus.

President of the Research Committee of the Institute of Mathematics and Statistics, Universidade de São Paulo. (Comissão de Pesquisa do IME-USP)
How to contact me: My institutional email address is piccione[at]ime.usp.br, and in principle this should be the preferred way to contact me. Very regrettably, the email server at IME has not been very reliable recently, and I know I missed several messages that were sent to me at this address. For this reason, I recommend that you use my gmail address: piccione.p[at]gmail.com. I sincerely apologize for the inconvenience.
RESEARCH: - ANALYSIS and GEOMETRY -
---
ENSINO/TEACHING
Primeiro semestre 2014
MAT0111 Cálculo Diferencial e Integral I, IGc - Licenciatura em Geociências
Código da Turma: 2014117

Horário e local: seg 21:20-23:00, qui 19:00-23:00, Sala A-03 Térreo, IG-USP.

Monitor: Belmiro Galo
email: belmirogalo@gmail.com
Horário de monitoria: 5a-feira, 18h-19h, IME-USP.

Bibliografia:

G.F. Simmons, CÁLCULO COM GEOMETRIA ANALÍTICA, vol. I, Ed. McGraw-Hill.
J. Stewart, CÁLCULO, vol. I, 4a. ed., Ed. Pioneira.
H.L. Guidorizzi, UM CURSO DE CÁLCULO, vol. I, Livros Técnicos e Científicos.
---
Semestres passados
---
SEMINARS, CONFERENCES AND LECTURE NOTES.
You can download the pdf file of my short talk (in portuguese) As grandes escolas matemáticas italianas, that I gave at the University of São Paulo on October 17th, 2013, in occasion of the 7a Semana da Língia Italiana.

Download the pdf file of my talk Bifurcation of CMC Clifford Tori in Euclidean Spheres, given at the International Symposium on Differential Geometry "In honor of Marcos Dajczer on his 60th birthday", IMPA, Rio de Janeiro, Brazil, August 2009. This is a joint work with Luis Alías, Universidad de Murcia, Spain.

III Workshop on Geometric Analysis, Universidade Federal do Ceará, Fortaleza, Brazil, February 2010. Here is the pdf file of my talk On the isometry group and the geometry of compact stationary Lorentzian manifolds. This is a joint work with Abdelghani Zeghib, École Normale Supérieure de Lyon, France.

I Encontro Internacional de Matemática no Nordeste Brasileiro, Universidade Federal da Paraíba, João Pessoa, February 2010. Here is the pdf file of my talk Bifurcation and symmetry breaking in geometric variational problems. This is work in progress, in collaboration with Miyuki Koiso and Bennett Palmer.

Download the pdf file of my talk Delaunay type hypersurfaces in cohomogeneity one manifolds, given at the meeting Encounters in Geometry, Cabo Frio, RJ, Brazil, in June 2013. This is a joint work with Renato G. Bettiol.

Short course: Introduction to Symplectic Mechanics, by Maurice de Gosson (Paris, maurice.degosson@gmail.com). Starting on Wednesday May 10th, 2006, room 254-A IME-USP, 1pm-3pm. Classes every wednesday, for 6 to 8 weeks.
Available material for the course:

School in Nonlinear Analysis and Calculus of Variations, October 17th-20th 2005, Scuola Normale Superiore, Pisa, Italy.
Notes of the short course (pdf file): "Orthogonal geodesic chords on Riemannian manifolds with concave boundary and applications".

Recenti sviluppi della geometria complessa, differenziale, simplettica, March 9th-11th 2006, Centro Ennio De Giorgi, Scuola Normale Superiore, Pisa, Italy.
Notes of my talk (pdf file): "On the single-leaf Frobenius Theorem and Its Applications. Semi-Riemannian connections, Cartan--Ambrose--Hicks theorem, Affine immersions".

1 Congresso Latino-Americano de Grupos de Lie em Geometria, Unicamp, Campinas, SP, June 5th-9th 2006.
Notes of my talk (pdf file): "G-structures and affine immersions". A slightly modified version of the slides have been used for my talk at the Workshop on Differential Geometry and PDEs, Universidade Federal de Santa Maria, RG, Brazil, October 16th-20th, 2006.

IV International Meeting on Lorentzian Geometry, Santiago de Compostela, Galicia, Spain, February 5th-8th, 2007.
Slides of my talk (pdf file): "On a Gromoll--Meyer type theorem in globally hyperbolic stationary Lorentzian manifolds". A slightly modified version of the slides have been used for my talk at the Primeiro encontro Instituto Superior Técnico (Lisboa) - Instituto de Matemática e Estatística (USP), September 13th, 2007.

Download the pdf file of the booklet: On the geometry of Grassmannians and the symplectic group: the Maslov index and its applications, by myself and Daniel Tausk. These notes were written in 2000 for a short course given by the two authors at the 11th School of Differential Geometry, Universidade Federal Fluminense, Niteroi, RJ, Brazil. Material from these notes appears without acknowledgement on A. Portaluri's Ph.D. thesis (Politecnico di Torino, Italy, 2004), together with other material plagiarized from different sources. We have a new revised edition of the book: P. Piccione, D. V. Tausk, A students' guide to symplectic spaces, Grassmannians and Maslov index, Publicações Matemáticas do IMPA, Rio de Janeiro, 2008978-85-244-0283-8, ISBN 85-244-0248-2.

In collaboration with my colleagues Francesco Mercuri (Unicamp) and Daniel Tausk (USP), I have given a short course in Morse Theory at the 23rd Brazilian Colloquium of Mathematics, held at IMPA, Rio de Janeiro, in 2001. You can download here the zipped versions of the pdf file or of ps file with the notes of the course. These notes were partially used also for the summer course at Cortona, Italy, august 2006. Needless saying that, in the present form, the notes are still a "work in progress", and probably they will always be.

On the right, a nice picture by Paul Gerardin of a polyhedron arising from an action of the symmetric group S4 on a 3-dimensional lattice.
MEMBERSHIPS AND OTHER MATH ACTIVITIES.
QUESTÕES DE ÉTICA
Sobre a escolha da banca de concurso de Professor Titular em Álgebra do Departamento de Matemática, IME-USP, setembro de 2007.
Achei que a escolha da comissão julgadora para o Concurso de Professor Titular na área de Álgebra não seguiu os padrões de transparência e objetividade necessários para um concurso público. Entre as várias falhas de caráter ético no processo inteiro da proposta da banca e da sua aprovação, questionei especificamente a real independência de julgamento para um dos membros da banca, que foi escolhido entre os colaboradores pessoais do presidente da banca. Ainda mais, este colaborador não entende a lingua portuguesa, o idioma oficial do concurso. Decidi que os documentos oficias deste processo devem permanecer a disposição, com a esperança que a divulgação dos fatos possa inibir atitudes parecidas no futuro.

Mensagem que enviei aos membros da Congregação do IME-USP antes da aprovação da banca, 28 de junho de 2007.
Carta lida pelo Prof. Futorny antes da votação da banca na reunição da Congregação, em resposta à minha mensagem, 28 de junho de 2007.
O AUTOR NÃO AUTORIZOU A DIVULGAÇÃO DO DOCUMENTO.
Após a leitura da carta não houve alguma discussão dos pontos mencionados na minha mensagem. A Congregação procedeu com a votação e aprovou por unanimidade a proposta de banca.

You will find here a review that I wrote on the paper: Maslov index for Hamiltonian systems, by A. Portaluri, published on the Electronic Journal of Differential Equations, 2008, No. 9, pp. 1-10. The paper is the final outcome of a long story of plagiarism and mathematical nonsense spread by the author over the last years. In spite of the fact that the total mathematical information delivered by this paper to the scientific community constitutes the empty set, reading this paper and all related material may be very instructive for those who want to reflect about the fragility and the vulnerability of our refereeing/publishing system.
QUESTÕES ACADÊMICAS
Sobre uma minha proposta de mudança de decisão do Conselho do Departamento de Matemática para abertura de Concurso de Professor Titular.

Leia a carta que enviei ao Conselho em junho de 2008 sugerindo que fosse reconsiderada a decisão de abrir um concurso para Professor Titular na área de Lógica e Fundamentos. Baseado na composição atual do corpo de Professores Titulares do nosso departamento, numa análise dos possiveis candidatos a Professor Titular das várias áreas, e em algumas reflexões gerais sobre o panorama matemático do país, eu sugeri que para esta vaga o concurso fosse aberto nas áreas de Análise Matemática e/ou Sistemas Dinâmicos.

Minha iniciativa não foi bem sucedida. O Conselho não achou meus argumentos relevantes face ao problema de ter que reverter uma decisão tomada alguns anos atrás. Este foi o resultado da votação da minha proposta.

Justificativa para coffee break. Em outubro de 2012, como Presidente da Comissão de Pesquisa, organizei o VI Simpósio de Iniciação Científica e Pós-Graduação do IME-USP. A organização da parte estritamente científica do evento foi tranquila, o que deu mais problema foi superar as várias obstruções burocráticas à realização do evento. O mais complicado foi obter recursos para os coffee breaks, incluídos na programação. Fui informado que este tipo de solicitação precisava ser justificada. Informei que os recursos (modestíssimos) seriam utilizados para a contratação de um serviço simples (cafezinho, sucos e um bolo caseiro). Foi exigido um texto por escrito com uma justificativa do meu pedido. Escrevi um pequeno texto genérico, que foi recusado por não conter argumentos suficientes na fundamentação da minha solicitação. Foi nesse momento que me dei conta da importância deste assunto, e resolvi gastar algumas horas do meu tempo livre para a redação de uma verdadeira justificativa para coffee breaks. Minhas argumentações estão contidas nessa carta, enviada ao então Assistente Técnico de Direção - Financeiro do IME, que espero seja útil a outros organizadores de evento que passem por uma situação análoga. Minha iniciativa teve sucesso, e o auxílio foi concedido.
OFFICE:
Sala 272-A IME-USP, tel. (+55 11) 3091 6249
fax (+55 11) 3091 6183

A