2008 International Conference on the
Analysis of Algorithms
Date: April 12-18, 2008
Place: Maresias, Brazil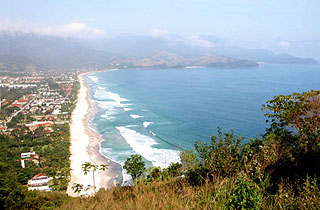 New information!
The slides of most of the talks (by the last name of the speaker) are now available.
Here you find an updated version of the program.

Take a look also at a picture of the group!
More pictures will be available soon.
---
Information about the program
There will be 8 plenary talks (1 hour each), 3 minicourses (2 hours each), and 42 short talks (30 or 15 minutes long).
Plenary Speakers Minicourses

Minicourse 1: Symbolic Methods in Combinatorics
Zhicheng Gao (Carleton University, Canada) [pdf]
Minicourse 2: Asymptotic Techniques for the Analysis of Algorithms
Bruno Salvy (INRIA Rocquencourt, France) [pdf]
Minicourse 3: Limiting Distributions in Combinatorics
Michael Drmota (TU Wien, Austria) [pdf]

Participants Here is the list of participants.

---
Registration fee There will be a registration fee of US$100. Students, pos-docs and researchers without grants are exempted. This fee should be payed at the AofA information desk in the first day of the conference, when you pick up the conference material. This fee will cover for the conference material, the coffee breaks and some social events we will have.
There is an on-line registration form to be filled to help us with the organization. This form in available here at the link Online Registration. Please, take the time to fill it in as soon as possible.
About the hotel The conference will take place at the Maresias Beach Hotel.
All invited participants received information about how to make a reservation by email.
The hotel rates for the conference are
| | |
| --- | --- |
| Single | Double |
| R$195 | R$135 |

This includes breakfast and, except for drinks, lunch and dinner.

The Brazilian currency is called real. As for Jan 4th, the conversion rate was 1,7574 REAL/BRAZIL = 1 DOLLAR. So a single room with full board was about US$110 and about EU$75.
Available resources
There will be a projector and a laptop available for speakers, and an "old fashion" projector (for hand made transparencies). There is also a large blackboard in the conference room.
Transportation Maresias is a beach less than 200km from São Paulo, Brazil. The main airport that serves São Paulo is the International Airport of Guarulhos. This airport is 150km from Maresias. There will be a bus leaving from the International Airport of Guarulhos on Saturday, April 12, at 13:00. Please arrange your incoming flight to arrive at the International Airport of Guarulhos before that time.
For the participants who will also attend LATIN'08, there will be a bus from the hotel in Buzios to the AofA hotel. This bus will leave Buzios on Friday, April 11, arriving on Maresias on the afternoon of Saturday; sleeping will be in a small town half way between Buzios and Maresias. Here is the list participants that will be on this bus.
Later we will post detailed information on how to get to Maresias for the participants that cannot make to the conference bus. For now, let us just say that there are buses going to Maresias each 3 hours from the Tietê bus terminal in São Paulo, and that there are frequent buses from the Airport to the bus terminal.
There will be a bus from the hotel in Maresias to the International Airport of Guarulhos on Friday, April 18, arriving at the airport at 16:00.
Other reminders Participants coming from abroad might need a visa to enter Brazil. Please, check with your Embassy whether you need a visa or not.
In particular, US citizens need a visa to enter Brazil, and it can take up to a month to get it, so take this into account.
---
Funding agencies and organizing institutions
CAPES - Coordenação de Aperfeiçoamento de Pessoal de Nível Superior
CNPq - Conselho Nacional de Desenvolvimento Científico e Tecnológico
FAPERJ - Fundação de Amparo à Pesquisa do Estado do Rio de Janeiro
FAPESP - Fundação de Amparo à Pesquisa do Estado de São Paulo
IME - Instituto de Matemática e Estatística da USP
IMPA - Instituto Nacional de Matemática Pura e Aplicada
---
Organizing Committee
Cristina G. Fernandes (University of São Paulo, Brazil)
Yoshiharu Kohayakawa (University of São Paulo, Brazil)
Carlos Gustavo T. de A. Moreira (IMPA, Brazil)
Roberto Imbuzeiro de Oliveira (IMPA, Brazil)
Daniel Panario (Carleton University, Canada, Chair)
---
Last modified: Wed Apr 30 17:37:10 BRT 2008